St. Therese of Lisieux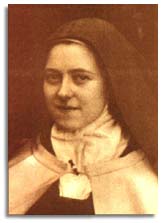 Yet Therese died when she was 24, after having lived as cloistered Carmelite for less than ten years. She never went on missions, never founded a religious order, never performed great works. The only book of hers, published after her death, was an brief edited version of her journal called "Story of a Soul." (Collections of her letters and restored versions of her journals have been published recently.) But within 28 years of her death, the public demand was so great that she was canonized.
Over the years, some modern Catholics have turned away from her because they associate her with over- sentimentalized piety and yet the message she has for us is still as compelling and simple as it was almost a century ago.
Tragedy and loss came quickly to Therese when her mother died of breast cancer when she was four and a half years old. Her sixteen year old sister Pauline became her second mother -- which made the second loss even worse when Pauline entered the Carmelite convent five years later. A few months later, Therese became so ill with a fever that people thought she was dying.
Every time Therese even imagined that someone was criticizing her or didn't appreciate her, she burst into tears. Then she would cry because she had cried! Any inner wall she built to contain her wild emotions crumpled immediately before the tiniest comment.
Therese froze, and her sister looked at her helplessly. Celine knew that in a few minutes Therese would be in tears over what her father had said.
She worried about her vocation: " I feel in me the vocation of the Priest. I have the vocation of the Apostle. Martyrdom was the dream of my youth and this dream has grown with me. Considering the mystical body of the Church, I desired to see myself in them all. Charity gave me the key to my vocation. I understood that the Church had a Heart and that this Heart was burning with love. I understood that Love comprised all vocations, that Love was everything, that it embraced all times and places...in a word, that it was eternal! Then in the excess of my delirious joy, I cried out: O Jesus, my Love...my vocation, at last I have found it...My vocation is Love!"