St. Ephrem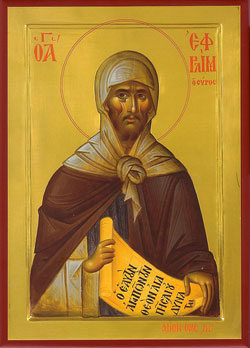 "I was born in the way of truth: though my childhood was unaware of the greatness of the benefit, I knew it when trial came."
"He Who created two great lights, chose for Himself these three Lights, and set them in the three dark seasons of siege that have been."
The originality, imagery, and skill of his hymns captured the hearts of the Christians so well, that Ephrem is given credit for awakening the Church to the important of music and poetry in spreading and fortifying the faith.
Ephrem's home was in physical as well as spiritual danger. Nisibis, a target of Shapur II, the King of Persia, was besieged by him three times. During the third siege in in 350, Shapur's engineers turned the river out of its course in order to flood the city as Ephrem describes (speaking as Nisibis):
"All kinds of storms trouble me -- and you have been kinder to the Ark: only waves surrounded it, but ramps and weapons and waves surround me... O Helmsman of the Ark, be my pilot on dry land! You gave the Ark rest on the haven of a mountain, give me rest in the haven of my walls."
The flood, however, turned the tide against Shapur. When he tried to invade he found his army obstructed by the very waters and ruin he had caused. The defenders of the city, including Ephrem, took advantage of the chaos to ambush the invaders and drive them out.
"He has saved us without wall, and taught us that He is our wall: He has saved us without king and made us know that is our king: He has saved us, in each and all, and showed us that He is All."