St. Josaphat of Polotsk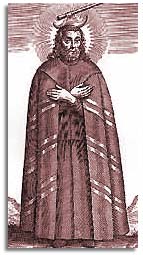 Josaphat knew of the plot against him and spent his day in prayer. In the evening he had a long conversation with a beggar he had invited in off the streets.
As usual
violence
had the opposite affect from that intended. Regret and horror at how far the
violence
had gone and the loss of their
archbishop
swung public opinion over toward the Catholics and unity. Eventually even
Archbishop
Meletius Smotritsky, Josaphat's rival, was reconciled with Rome. And in 1867
Josaphat
became the first saint of the Eastern church to be formally canonized by Rome.