Important note for 2023: This year the feast was transferred from January 8th to the 9th and is a Solemnity throughout the ecclesial province of New Orleans (the entire state of Louisiana). Since it is a Solemnity the Baptism of the Lord, also assigned to January 9th this year will not be celebrated in Louisiana. After the celebration of Our Lady of Prompt Succor on the 9th, the Church commences Ordinary Time
Our Lady of Prompt Succor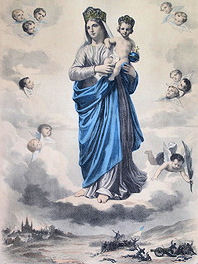 Devotion to Our Lady of Prompt Succor dates back to 1802, when the Ursuline Order in New Orleans pleaded for help in sustaining the Order with new sisters from France. Their prayers were answered with papal permission for sisters to be transferred from France to New Orleans. In thanksgiving for this favor, the Ursulines dedicated a statue in their convent chapel to Our Lady of Prompt Succor in 1810.
In 1812, a terrible fire broke out in New Orleans, and the wind was blowing the flames toward the convent. Prayers before the statue of Our Lady were answered with a reversal of the wind direction and the convent was spared.
During the Battle of New Orleans, in 1815, the sisters again invoked the assistance of Our Lady of Prompt Succor. As the sound of guns and cannons thundered around the chapel during Mass, they vowed to have a Mass of Thanksgiving sung every year if the Americans were victorious. At Communion time, a messenger arrived with the news that Gen. Andrew Jackson's overmatched army had successfully driven the British from the city. Once again Our Lady had responded promptly.
In 1928, the Holy See approved the selection of Our Lady of Prompt Succor as the Patroness of the city of New Orleans and the state of Louisiana. The Mass of Thanksgiving is offered each January 8 at the Shrine of Our Lady of Prompt Succor in New Orleans.
Patron: State of Louisiana; the Archdiocese of New Orleans; City of New Orleans