St. Mary of the Cross MacKillop
Feastday:
August 8
Patron:
of Australia, Brisbane, Knights of the Southern Cross
Birth: 1842
Death: 1909
Beatified: 19 January 1995, Sydney by Pope John Paul II
Canonized: 17 October 2010, Vatican City by Pope Benedict XVI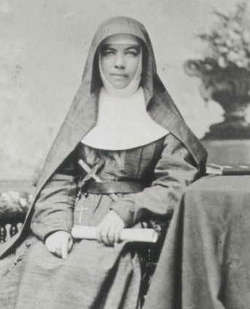 Mary Helen MacKillop (15 January 1842 - 8 August 1909), also known as Saint Mary of the Cross, was an Australian Roman Catholic nun who, together with Father Julian Tenison Woods, founded the Sisters of St Joseph of the Sacred Heart and a number of schools and welfare institutions throughout Australasia with an emphasis on education for the poor, particularly in country areas. Since her death she has attracted much veneration in Australia and internationally.
On 17 July 2008, Pope Benedict XVI prayed at her tomb during his visit to Sydney for World Youth Day 2008. On 19 December 2009, Pope Benedict XVI approved the Roman Catholic Church's recognition of a second miracle attributed to her intercession. She was canonised on 17 October 2010 during a public ceremony in St Peter's Square at the Vatican. She is the only Australian to be recognised by the Roman Catholic Church as a saint.