St. Augustine Tchao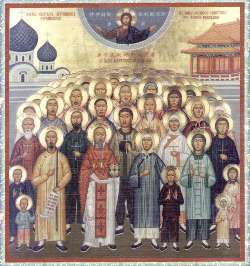 Feastday:
July 9
Birth: 1746
Death: 1815
Beatified: 27 May 1900 by Pope Leo XIII
Canonized: 1 October 2000 by Pope John Paul II
Chinese Martyrs
is the name given to a number of members of the
Catholic Church
and the
Eastern Orthodox Church
who were killed in
China
during the 19th and early 20th centuries. They are celebrated as
martyrs
by their respective churches. Most were Chinese
laity
, but others were
missionaries
from various other countries; many of them died during the
Boxer Rebellion
.
He was a Chinese soldier, converted and became a Catholic Priest