St. Margaret of Antioch
Feastday:
July 20
Patron:
of childbirth, pregnant women, dying people, kidney disease, peasants, exiles, falsely accused people; Lowestoft, England; Queens' College, Cambridge; nurses; Sannat and Bormla, Malta
Death: 304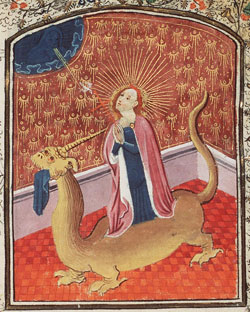 Martyr of
Antioch
in Pisidia, sometimes called Marina. She is traditionally believed to be the daughter of a
pagan
priest
who became a Christian. Beautiful, Margaret refused proposals from Olybrius, the local prefect, who imprisoned her and tortured her cruelly. Margaret was eventually beheaded, after being swallowed by a dragon and enduring several other legendary adventures. Margaret is one of the Fourteen Holy Helpers, and she spoke to St. Joan of Arc. This cult was suppressed.