St. Charles Lwanga and Companions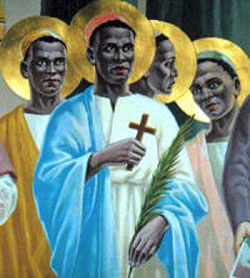 King Mwanga was a violent ruler and pedophile who forced himself on the young boys and men who served him as pages and attendants. The Christians at Mwanga's court who tried to protect the pages from King Mwanga.
Anger and suspicion must have been simmering in Mwanga, however. In May 1886 he called one of his pages named Mwafu and asked what the page had been doing that kept him away from Mwanga. When the page replied that he had been receiving religious instruction from Denis Sebuggwawo, Mwanga's temper boiled over. He had Denis brought to him and killed him himself by thrusting a spear through his throat.
Prayer: