St. Boniface of Mainz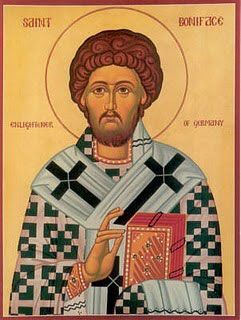 In the three years he spent with Willibrord, Boniface gave as much as he gained. So helpful was he that Willibrord, who was in his sixties, wanted to make Boniface his successor. But with his training over, Boniface felt the pull of the German missionary work he'd left behind, and, despite Willibrord's pleas, went to Hesse.
Boniface was called upon to lend his own support to Frankish Church which was also sadly in need of reform. He set up councils and syonds and instituted reforms which revitalized the Church there.
Boniface is known as the
Apostle
of Germany. He not only brought the
Christian
faith
but Roman
Christian
civilization to this portion of Europe.