St. Augustine of Canterbury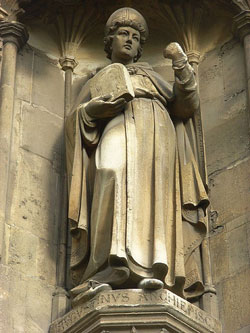 Missionaries had gone to Britain years before but the Saxon conquest of England had forced these Christians into hiding. Augustine and his monks were to bring these Christians back into the fold and convince the warlike conquerors to become Christians themselves.
Augustine was more successful with the pagans than with the Christians. He found the ancient British Church, which had been driven into Cornwall and Wales, had strayed a little in its practices from Rome. He met with them several times to try to bring them back to the Roman Church but the old Church could not forgive their conquerors and chose isolation and bitterness over community and reconciliation.