St. Engelbert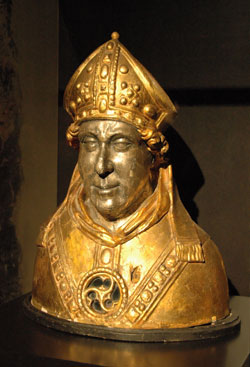 Archbishop of Cologne, Germany, slain by hired assassins and venerated as a martyr. He was the son of the count of Berg and became the possessor of many benefices.
Engelbert
was excommunicated but was restored into union with the Church. He became the
archbishop
of
Cologne
in 1217, at the age of thirty. In this office he proved his mettle and became tutor to the son of Emperor Frederick II. In 1222 he crowned Henry King of the Romans.
Engelbert
was slain by his cousin Frederick, whom he had thwarted in an attempt to steal from the
nuns
of Essen.
Engelbert
was ambushed at Gevelsberg and murdered on November 7.