St. Elias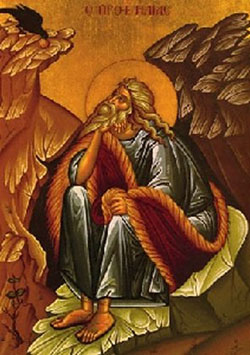 St.
Elias
whose
feast day
is July 20th.
Elias
was an Arab who was educated in an Egyptian monastery. He was driven from
Egypt
by monophysite
Bishop
Timothy the Cat of
Alexandria
for his
Catholic
orthodoxy. He went to Palestine, where he stayed for a
time
at St Euthymius' laura, founded a monastery at Jericho, and was ordained. In 494 he was elected
patriarch
of Jerusalem. Although he had accepted Emperor Zeno's Henotikon of 482, which was condemned for its bias in favor of monophysitism,
Elias
remained loyal to Rome. In 512 the
synod
of
Sidon
supported
Elias
and his colleague,
Bishop
Flavian of Antioch, and the decrees of the Council of
Chalcedon
(451), though the
synod
had been summoned to denounce
Chalcedon
and to depose the two bishops, who strongly supported Chalcedon.
Elias
was exiled to Aila on the
Red Sea
in 513 when he refused to sign Emperor Anastasius I's formula supporting monophysitism and died there.