Bl. Maria Teresa Fasce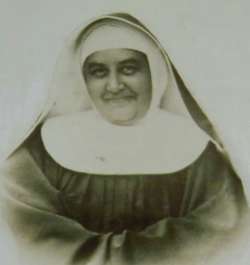 Facts
Feastday:
October 12
Birth: 1881
Death: 1947
Beatified By: 12 October 1997 by Pope John Paul II
---
Maria Terese of Cascia was born in Torriglia, a small town near Genoa, Italy in 1881 to a middle-class family. Her parents had her baptized with the name Maria, but throughout her life, she was called "Marietta."
Although Marietta lost her mother when she was eight, she was well looked after by her older sister. Religious values were taught at home and Marietta was enrolled in school where she did well. Marietta was lively and vivacious, and she responded well to instruction.
In Genoa, she attended the Augustinian parish of Our Lady of Consolation, a place where she would be greatly inspired to her life's vocation as a nun. Marietta met her confessor there, Father Mariono Ferriello, who encouraged her to pursue her vocation. Marietta was also taught catechism there along with signing. She also learned extensively about St. Augustine, whose spirituality greatly influenced her.
The singular event, which influenced Marietta the most, however, was the canonization of St. Rita of Cascia. Pope Leo XIII canonized St. Rita on May 24, 1900. Along with the canonization, there were lectures, liturgical celebrations, and other events celebrating the life of St. Rita. This influenced Marietta to live a religious life.
Marietta had been contemplating a religious lifestyle for some time, but the canonization of St. Rita compelled her to announce her intentions to her family, who took the news badly. Marietta's brothers were particularly negative about her decision. Still, Marietta was undeterred and she felt absolutely sure she wanted to enter the convent.
Marietta applied for admission to a Ligurian Augustinian monastery, but she was rejected, news which shocked and surprised her. The monastery's abbess, Mother Giuseppina Gattarelli, explained she felt that Marietta, accustomed to life in the city, would not be able to handle the spartan rigors of a rural monastery. Still, Marietta was tenacious; she reapplied and was accepted in 1906.
Thus, in 1906, Marietta began her religious career.
On Christmas night of 1906, Marietta was given her habit and one year later she took vows of chastity, poverty, and obedience. The name, "Teresa Eletta" was given to her.
Unfortunately for Marietta (now Maria Teresa Eletta) she discovered a monastery in crisis. A group of seven young sisters from Visso who were much more relaxed in their practice than the older sisters created a generational crisis. The levity and laughter did little to promote Maria's spiritual growth and disappointment and doubt began to develop in her mind. In June of 1910, Maria Theresa left the monastery to reexamine her decision.
However, Maria returned in May of 1911, more confirmed than ever. The following March, she made her solemn profession of the vows. She promptly protested the situation at the monastery by writing letters to the superiors. Impressed with her alacrity, she was soon appointed to Mistress of Novices in 1914. In 1917, she became Vicar, and in 1920 her sisters unanimously elected her Abbess. She would hold that position until her death in 1947.
Maria Teresa was remembered as a strict, but practical woman who was also very sweet to her community. She made clear to all that Jesus wants active, hard working brides, and that being such would be their duty. She rigidly observed the Augustinian Rule.
Despite her rigidity, her community remembered her for her great tenderness and friendliness. She was not considered a dictator, but a genuine spiritual leader with great charisma.
Maria Terese was also known for her great stamina. As abbess, she directed the construction of a new church for Saint Rita and a girl's orphanage. This project consumed much of her tenure, and in fact, the church was not completed until several months after her death.
Maria Terese also spent much of her time in illness, suffering from painful afflictions. She suffered with a malignant tumor on her right breast and was compelled to undergo two surgeries. She referred to her tumor as "her treasure" and explained that it was the most beautiful gift which Jesus had given to her. She also suffered from asthma, diabetes, and circulatory problems which caused great pain in her feet. She became very overweight and had difficulty walking. Later in her tenure, her sisters had to carry her in a chair.
Despite her pain, she never complained about her illness and she never slowed the pace of her activity. Her condition has been compared to the suffering of Christ, which like Jesus, she bore with patience and reverence.
Maria Terese died on January 18, 1947. She was laid to rest in a crypt next to her beloved St. Rita. Pope John Paul beautified her in July 1997.
Augustinians celebrate her feast day on October 12