St. Francis Ferdinand de Capillas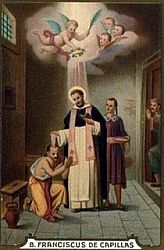 Facts
Feastday:
January 15
Birth: 1607
Death: 1648
Beatified By: 2 May 1909 by Pope Saint Pius X
Canonized By: 1 October 2000 by Pope John Paul II
---
Francis Ferdinand de Capillas(true name in Spanish: Francisco Fernández de Capillas) O.P. (1607-1648) was a Castilian Christian missionary to China. He was the first Roman Catholic martyr killed in China. He was beatified by Pope Pius X in 1909, and canonized by Pope John Paul II in 2000 as the protomartyr of the 134 Martyrs of China.