Mother Teresa gets postage stamp! Vatican prepares to recognize Bl. Mother Teresa of Calcutta as a saint
---
Beautiful stamp features Bl. Mother Teresa with a child.
The Vatican has announced it will release a postage stamp dedicated to the Bl. Mother Teresa on the occasion of her canonization. After her canonization, she will be known as St. Mother Teresa.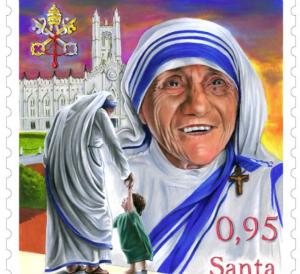 The Mother Teresa stamp announced by the Vatican.
LOS ANGELES, CA (California Network) - Bl. Mother Teresa will be recognized as a saint by the Catholic Church during a ceremony at the Vatican at 10:30am on Sept. 4. As part of the ceremony, a feast for the poor will be held as well as a prayer vigil and Mass.
The Vatican Philatelic and Numismatic Office has also announced the release of a commemorative postage stamp for collectors.
The stamp shows two images of Mother Teresa, one where she is smiling and a second of her greeting a small child.
Only 150,000 of the sheets of stamps will be sold. Each sheet will contain just 10 stamps.
Mother Teresa was born in the Ottoman Empire to an ethnic Albanian family. As a young woman she traveled to Ireland to become a nun, and was sent to India to work. While in India she established the Missionaries of Charity and cared for the poorest of the poor, and those who were very sick. Her work won international recognition.
Today, the Sisters of Charity operate missions around the globe, serving millions of people in need.